How to Write a Book to Generate Leads
It seems that every business owner wants to know how to write a book to generate leads. They want to stand out from the crowd. They want to attract more clients and position themselves as an expert in their industry.
It has been some years since self-publishing became possible for everyone. In the early days it was easy to stand out from the crowd just by having a book with your name on it. But lots of people have jumped on the bandwagon and today people expect more. Everyone knows that it's possible to publish just about anything you want on a platform like Amazon, get a swanky cover for it, and call yourself an author. People aren't impressed any more.
To position yourself as an expert and to stand out from the crowd, you have to offer something better than the average self-published book. People have become immune to 'average'.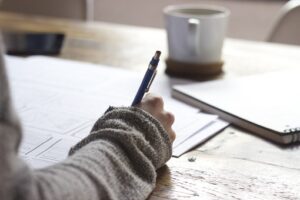 How Do You Generate Leads With A Book?
In a world that ignores most of the business messages and new books they are being bombarded with, this is the way to write a book that gets through to people…
Write a book your audience finds useful.
That is what it boils down to. If you want people to change their habits, you must show them how. If you want them to work with you, you must show them that you can make a difference to their lives. If you want them to think of you as the expert in your field, you must share your expertise.
Your audience is savvy. They're too savvy to want to work with you because you told them all about your life. They're too wise to do what you tell them to do just because it worked for you… they'll come up with a thousand reasons why they're different from you. They're too used to seeing new books published to believe that you must be the expert because you've got a book with your name on the cover.
The only way to make the time and effort of writing a book to build a brand, generate leads, etc. worthwhile, is to write the book your audience want to read. You can't fool them into thinking you're worth their time. You have to prove that you are worth their time.
If you want to write a book that makes a real difference to your audience's perception of you… and you don't want to stick any old thing up on Amazon… find out more…https://bestbookyoucan.com/home/book-for-your-brand/