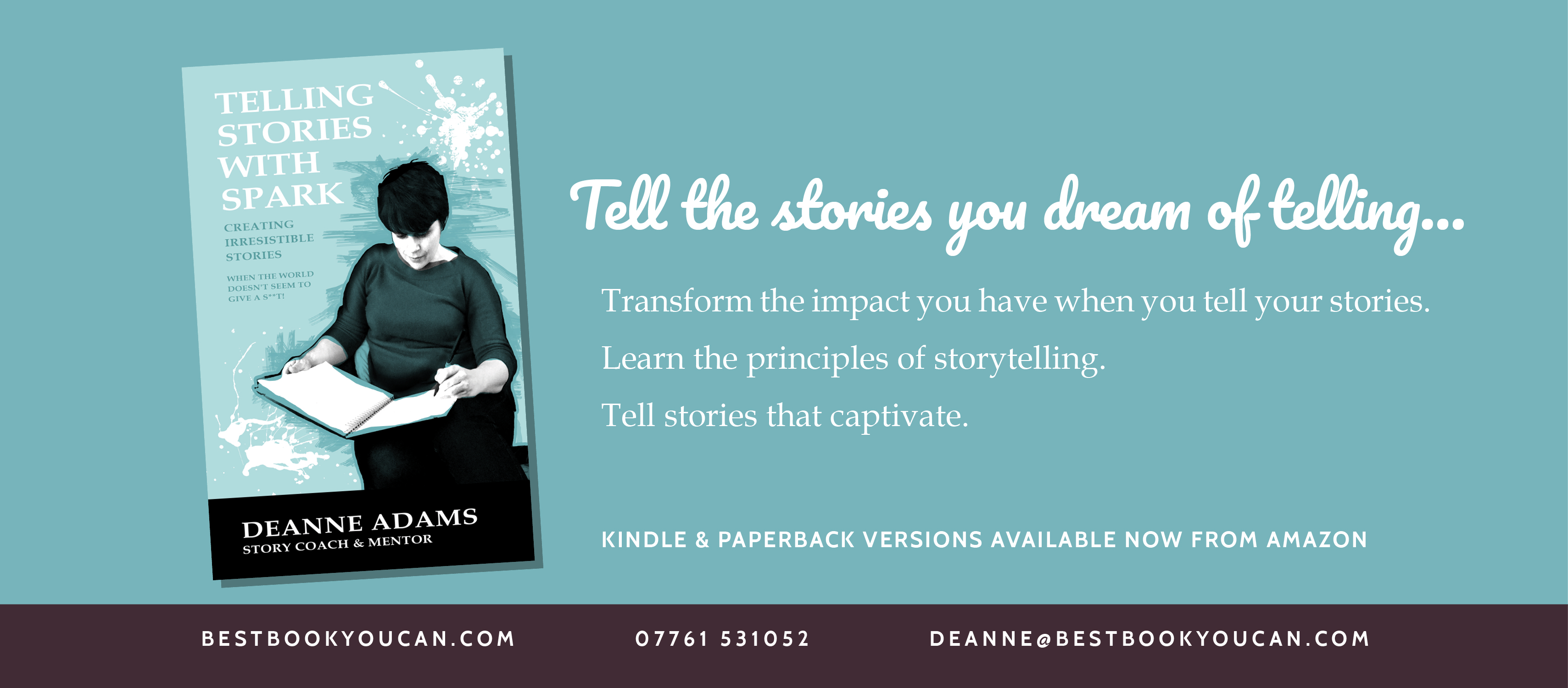 Writers who have just found me tell me about their frustrations. They tell me how hard it is to:
get the words to come out right
get anyone to read their work – even their closest relations
get sales and/or interest from agents and publishers
Looking for a way to get your audience to pay attention to your fictional or personal stories?
This book helps you tell stories that people find irresistible. Telling Stories with Spark is a no-nonsense, jargon-light book. In it, I help you understand what makes a story actually work.
Telling Stories with Spark
Humans are hard-wired to respond to stories above other kinds of language. You'll get to the heart of what makes a good story work. It teaches you where you've been going wrong with the way you write your action. Understand the difference between showing and telling. Find out what that old saying 'Show Don't Tell' really means, when broken down properly. You will also have the tricky matter of character dialogue untangled for you, and get some hands-on writing challenges to complete.
You get to see and have a go at putting one word in front of another in a way that will irresistibly grab your audience's imagination. Until you have this sorted out, all the theory about plotting, character arcs, etc. is pointless. Order 'Telling Stories with Spark' today and make the transformation.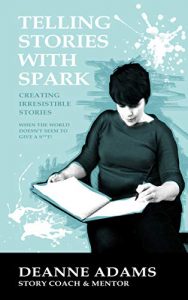 "Less than 2 years ago, I had a few vague ideas, a few scraps of stories and a strong urge to write. Them I met Deanne. I now have over 150 short stories under my belt, 3 picture books ready to be sent out into the big wide world and a first draft of a novel completed.
I've accrued accolades from a number of international competitions and been invited to read my work at artistic events. Working with Deanne has helped me hone my skills, regain my focus and feel confident in my work. I can't wait to see where it takes me in the future.
Thanks Deanne."
Whether you're a new writer or writing your third novel, a community to share ideas and receive encouragement is something special.
Follow my Club (Writers' Pool) on Clubhouse to get this benefit. A community for writers to discuss, collaborate and support each other. It's a non-judgemental, non-stuffy space which welcomes writers of all experience levels. It's about helping each other up rather than knocking each other down.
Claire Fayers will be joining me on Clubhouse for a discussion and Q&A on 23rd September 2021 at 8pm (UK time). This is an exciting opportunity to listen to a traditionally published author give her experiences of being a writer of children's books – and maybe even ask your own question!
Writing sprints are all the rage with writers and authors. It doesn't matter whether you write fiction or non-fiction. They work whatever genre or sub-genre you write. A writing sprint is a closely focused period of time spent writing. Some writers do twenty-
minute sprints. Others prefer half an hour or forty minutes. Most authors find that their words start running dry after this time period, but some keep going for an hour. There's no right or wrong in this. Writers are human too (honestly!) and we are all different.