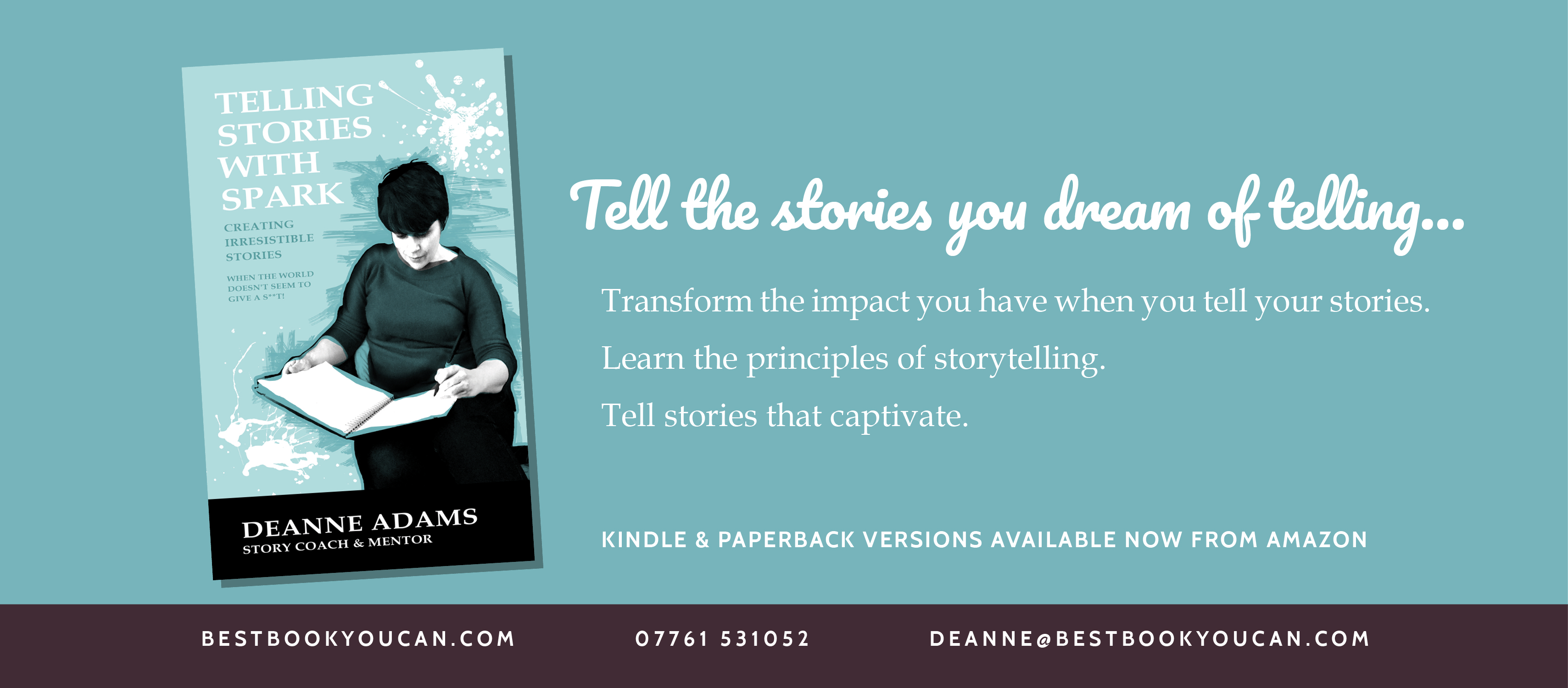 Learn to tell stories
Writers who have just found me tell me about their frustrations. They tell me how hard it is to:
get the words to come out right
get anyone to read their work – even their closest relations
get sales and/or interest from agents and publishers

Looking for a way to get your audience to pay attention to your fictional or personal stories?
This book helps you tell stories that people find irresistible. Telling Stories with Spark is a no-nonsense, jargon-light book. In it, I help you understand what makes a story actually work.
Telling Stories with Spark
Humans are hard-wired to respond to stories above other kinds of language. You'll get to the heart of what makes a good story work. It teaches you where you've been going wrong with the way you write your action. Understand the difference between showing and telling. Find out what that old saying 'Show Don't Tell' really means, when broken down properly. You will also have the tricky matter of character dialogue untangled for you, and get some hands-on writing challenges to complete.
You get to see and have a go at putting one word in front of another in a way that will irresistibly grab your audience's imagination. Until you have this sorted out, all the theory about plotting, character arcs, etc. is pointless. Order 'Telling Stories with Spark' today and make the transformation.
"Less than 2 years ago, I had a few vague ideas, a few scraps of stories and a strong urge to write. Them I met Deanne. I now have over 150 short stories under my belt, 3 picture books ready to be sent out into the big wide world and a first draft of a novel completed.
I've accrued accolades from a number of international competitions and been invited to read my work at artistic events. Working with Deanne has helped me hone my skills, regain my focus and feel confident in my work. I can't wait to see where it takes me in the future.
Thanks Deanne."
Free Bonus Challenge Material
Ready to take your stories further?
This lifetime access course builds on the foundation you lay with Telling Stories with Spark.
The Storytellers' Academy frees you to write the stories that are begging to be told.

Our own mortality weighs heavily on us humans. If only we could make ourselves immortal. Sound a bit heavy? Only because it's true. Picture those alchemists of old, hunched over bubbling potions, strange collections of ingredients lining the walls. See those...
'Sure, I'll read your boring novel. The way you've told it is like wading through mud, your characters speak like robots and you've written lots of dull and pointless description, but I know you've spent time writing it and you think it's fabulous so of course I will...
Is nobody reading your stories? You're probably doing THIS wrong... You write a story/article/100,000 word novelised biography, put it out there... and nothing. Nada. Zip. Zilch. Nobody (apart from your mum) seems to care. It's a powerful story, one which had an...