Telling Stories with Spark: Book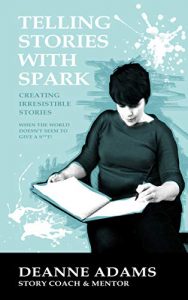 Writers who have just found me tell me about their frustrations. They tell me how hard it is to:
get the words to come out right
get anyone to read their work – even their closest relations
get sales and/or interest from agents and publishers
Telling Stories with Spark is a no-nonsense, jargon-light book. In it, I help you understand what makes a story actually work. You get to see and have a go at putting one word in front of another in a way that will irresistibly grab your audience's imagination.
Until you have this sorted out, all the theory about plotting, character arcs, etc. is pointless. Order it today and make the transformation.
Free Bonus Challenge Material
Ready to take your stories further? Find out about the online Storytellers' Academy course membership below.
The Storytellers' Academy
This lifetime access course builds on the foundation you lay with Telling Stories with Spark. It frees you to write the stories that are begging to be told. Find out more…