Writing Workshops South Wales
Nobody is just born to write. Every successful writer has spent time honing their craft. This creative writing workshop in South Wales is your chance to get ahead of the game.
Workshops take place in Swansea (31 August) and Cardiff (5 October). Easy access from M4. Each workshop offers you a half day kick-start to develop your interest in writing stories and help you turn it into something more than a hobby.
There are several problems that stop aspiring authors ever doing something about it … lack of time, confidence and good advice, getting stuck in your own head, those 'who am I to do this?' gremlins – and plain old-fashioned procrastination.
At this writing workshop and retreat, we will work through these blocks to your success. You'll get the insider knowledge on what makes a story really work, from characters your readers love (or love to hate), to what showing rather than telling really means. You'll learn how to create story people that are believable and get t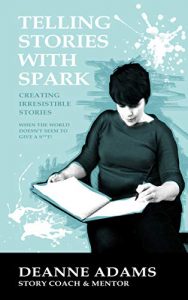 hem moving around in your story world in a natural way that pushes your story onward.
You'll get writing prompts to create your own story (so bring your favourite notebook), some blessed time away from distractions to actually write, plenty of caffeine and snacks, and the chance to get useful feedback. Your ticket also includes a writer's survival kit – including a copy of my book Telling Stories With Spark.
Strictly limited tickets available. Share this with a writer you love or click to book.
Both workshops run from 9am until 1pm. Venues: Village Hotel, Swansea (off Fabian Way) and Village Hotel, Coryton, Cardiff.